Back to list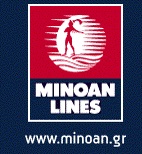 MINOAN LINES
Make your trips a unique experience with Minoan Lines!
Get information about routes in Crete and Italy, fast and easy and book your place!
Since 1972, Minoan Lines created its fleet in Iraklion, Crete, aiming to provide passengers high quality services at reasonable prices.
Having the most luxurious Cruise Ferries in the Mediterranean, it provides passengers the ability to travel with comfort and safety in port destinations both in Greece and Europe.
Among others, the ferries of Minoan Lines offer special services to meet the modern standards of life such as Wi-Fi, Internet, Spa, Disco, Gym, Conference Center etc.
In other words, for Minoan Lines "Have a nice trip" is not a wish.. it is a promise!